How it all began...
When an opportunity presents itself, you just have to seize it.
Chef Daniel Viorato was looking for a new restaurant where his unique style of cooking could be featured. The recently closed down Mission Restaurant was available, so he approached Erin Pelayo about it. He wanted to make his mark as a chef, but he knew he needed Erin's expertise as a restaurateur to make that happen. After a lot of thought, Erin, with the encouragement of her daughter, Gabby, realized the empty Mission Restaurant had a fantastic location with huge potential to be successful. It was a truly a leap of faith for both of them as the unique opportunity was seized and Chula's Restaurant and Cantina was born.
After doing an extensive remodel of the interior including ripping out all of the walls, installing new plumbing, new HVAC, a ton of electrical rewiring, plus giving the building a new coat of paint (we love our bright exterior), all in just seven weeks allowed Chula's to open in October of 2015.
Offering a simple menu of flavorful comfort food, and plenty of happy hour specials, we waited for our customers to come in and give us their reviews. Chula's was a hit!
Meet our Chef
Chef Daniel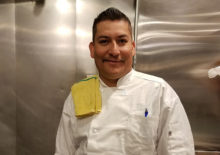 Yo nací en Chacalilla, Nayarit pero no aprendí a cocinar hasta que me mudé a los Estados Unidos. A los 17 años empecé a trabajar de lavaplatos en un restaurante. Después de dos años me dieron la oportunidad de empezar a trabajar como cocinero en ese mismo restaurante. Es así como aprendí a cocinar. Cuando me enteré que La Misión había cerrado y que estaba en renta, inmediatamente contacté a Erin Pelayo. Lo que le dije a Erin fue "tengo mucha creatividad y demasiadas ideas para empezar un restaurante nuevo. Nada mas quiero que alguien me de una oportunidad." Es así como abrimos Chula's, el séptimo restaurante en el que he trabajado. Mis platos favoritos son los chiles rellenos y los taquitos de pollo con salsa y crema. Pero lo que disfruto cocinar mas en casa son las enchiladas, los tacos callejeros y los taquitos.
---
English: I was born in Chacalilla, Nayarit, but I didn't learn to cook until I moved to the United States. When I was 17-years-old I started working at a restaurant as a dishwasher. After two years my employers gave me the opportunity to start working as a cook. I was passionate about food and all the different ways I could bring a simple dish to make it delicious. This is how I learned how to cook. A few years later, I decided to talk to my boss, Erin Pelayo, at the restaurant I worked called Chapala Mexican Restaurant. When I saw that the restaurant The Mission was for lease I approached Erin and told her "I just want someone to take a chance on me because I have so much creativity and so many ideas." Erin took the chance and invested her money to open Chula's Restaurant and Cantina. Before Chapala I worked at many different types of restaurants. American, Thai, Chinese. I wanted to learn how to incorporate all different flavors and by working under many chefs it allowed me to experiment. My favorite dishes are chile rellenos and chicken taquitos topped with salsa and sour cream. However, what I enjoy cooking the most at home are enchiladas, street tacos and taquitos.
Reviews
The food here is very authentic. We have been searching for a good Mexican food restaurant for years here in Eugene and finally! They have a good selection of craft beer too. Great vibe-y atmosphere. This is our new favorite place to eat when we come up to visit.