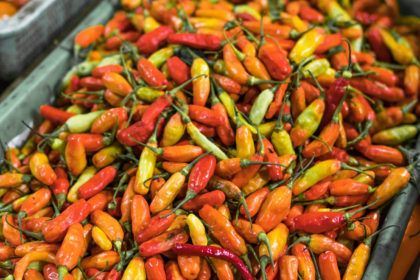 There are hundreds of different varieties of chili peppers. Some are sweet while others can cause agonizing pain.
What is that sets these peppers apart?
The strong effects that come with eating spicy food are caused by one chemical found in chili peppers: capsaicin.
The highest amounts of capsaicin are found in the seeds and pith of the peppers. While there are some small amounts in the body of the pepper, the innards have the highest concentration.
There is a huge range of capsaicin found in peppers. Green bell peppers have practically no capsaicin whereas ghost peppers, the hottest peppers in the world, have 2,200,000 Scoville Heat Units (SHU).
Wait, what are Scoville Heat Units?
They are the measurements of pungency found in chili peppers. Here are the Scoville heat units of some common peppers:
| | |
| --- | --- |
| Scoville Heat Units (SHU) | Pepper Type |
| 800,000 to 2,200,000 | Ghost pepper |
| 350,000 to 800,000 | Chocolate habanero |
| 100,000 to 350,000 | Habanero |
| 10,000 to 100,000 | Cayenne pepper |
| 1,000 to 10,000 | Jalapeño |
| 100 to 1,00 | Banana pepper |
| 0 to 100 | Bell pepper |
What happens if I eat a lot of capsaicin?
While you may find that our jalapeño fries (fries smothered in jalapeños, melted cheese, and your choice of carne asada or bacon) are delicious, your body views capsaicin as offensive. Your body perceives capsaicin it as a toxin that needs to be flushed out, resulting in a runny nose, watery mouth, and increased perspiration.
So what do you do with all of this new found knowledge on chili peppers? Come join us at Chula's in Eugene, Oregon and try our selection of spicy Mexican food!