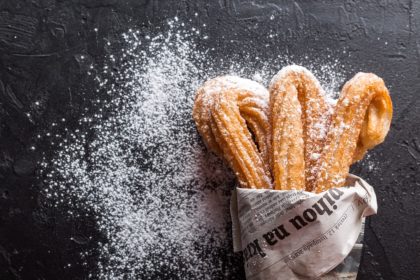 Churros and flan and fried ice cream, oh my! Make your favorite Mexican desserts at home with these easy recipes. If you're not in the homemaking mood, come by Chula's for some excellent Mexican food in Eugene, including our decadent Mexican desserts including sopapillas, fried ice cream, and flan.
Fried Ice Cream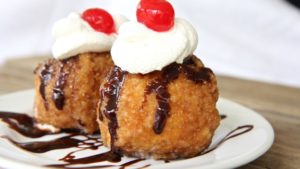 Recipe courtesy of Divas Can Cook.
Ingredients:
1.5 quart vanilla ice cream

3 cups vanilla wafer cookies

2 cups corn flakes cereal

½ cup Fisher pecans

1 tablespoon cinnamon sugar

2 eggs, beaten

Garnish: chocolate syrup, whipped cream, cherries
Instructions:
Scoop out 12 balls of ice cream using a large ice cream scoop. Place into muffin tin lined with plastic wrap. Cover with plastic wrap and freeze until solid (overnight is best).

In a food processor, add cookies, corn flakes cereal, pecans, and cinnamon sugar. Process until fine crumbs and place in large bowl.

In another large bowl, beat eggs.

Dip each frozen ice cream ball into crumb mixture, then into the eggs, and then back into the crumb mixture.

Place ice cream balls back into muffin tin and freeze overnight.

Heat oil to 400° in a deep fryer.

Fry ice cream balls for a few seconds or until golden. Drain on paper towels.

Garnish with chocolate syrup, whipped cream, and a cherry. Serve immediately.
Flan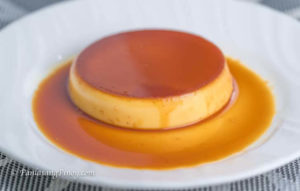 Recipe courtesy of Panlasang Pinoy
Ingredients:
12 egg yolks

¾ cups granulated white sugar

1 can condensed milk

1 cup fresh milk

1 teaspoon vanilla extract

4 cups boiling water
Instructions:
Preheat oven to 350°. Heat a saucepan on stovetop. Add the sugar. Cook until it starts to melt. Adjust the heat to low and cook while gradually stirring until sugar turns into caramel.

Pour caramel into individual ramekins. Let cool. Set aside.

Beat egg yolks in a mixing bowl. Gradually add the condensed milk while beating. Slowly pour fresh milk into the mixing bowl. Add vanilla extract. Beat until smooth.

Pour mixture into ramekins with caramel. Cover with aluminum foil. Arrange a roasting tray.

Pour boiling water into the roasting tray until the water level reaches 1 to 1 ½ inches.

Bake for 50 minutes.

Remove from oven. Let it cool. Transfer to a serving plate. Serve and enjoy!
Mexican Churros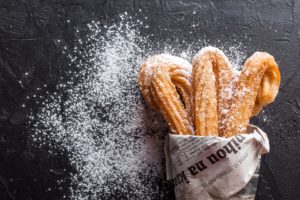 Recipe courtesy of Table for Two
Ingredients:
6 tablespoons unsalted butter

2 1/4 cups water

1 teaspoon kosher salt

1 teaspoon

vanilla extract

1 stick of cinnamon

2 1/4 cups all-purpose flour

1 large egg

1 1/2 cups sugar

1 tablespoon ground cinnamon

1 quart canola oil, for frying
Instructions:
In a saucepan over medium-high heat, melt butter. Add water, salt, vanilla, and cinnamon stick. Bring to a boil. Remove cinnamon stick and remove mixture from heat.

Add flour and stir until a smooth dough is formed, about 3-5 minutes.

Let dough cool, about 10-15 minutes. Transfer to a bowl and add the egg. Stir

vigorously

until egg is incorporated.

Transfer dough to a piping bag fitted with a closed star tip. Set aside.

In a shallow bowl, mix together sugar and cinnamon. Set aside.

Heat oil in a Dutch oven to 400°

Hold piping bag above oil and pipe about four 6-inch lengths of dough. Fry until golden brown, about 2 minutes, flipping every so often.

Transfer to paper towels then transfer to cinnamon-sugar mixture and roll around until evenly coated. Repeat with remaining dough in piping bag. Enjoy!