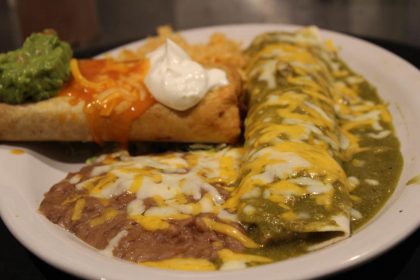 Winter has arrived, the leaves are dropping, and we finally get to break out our beanies and fuzzy boots. Now's the time to start planning warm, cozy meals to fight the frost. Like most of you, our mind goes to soups and stews… but why not break with tradition and try comfort food Mexican style! We have everything you need at Chula's Restaurant and Cantina of Eugene to keep the cold away.
Soups
If you're stuck on having soup on cold autumn and winter nights, Chula's has the soup to warm your soul. Our hearty Tortilla Soup starts with a delicious broth with chunks of avocado, gooey melted cheese, and charbroiled chicken topped with sour cream and tortilla strips. Or you could choose a slightly more well-rounded meal and make it a Soup & Salad combo! You get a cup of our famous tortilla soup, with your choice of a taco or tostada salad. What's not to like?
Enchiladas
Originating in Mexico, the enchilada is a crowd favorite, loved worldwide. A fresh tortilla rolled up with deliciously spiced ingredients, it's sure to warm your heart and soul. With so many options and specials available, you could have a different enchilada each week to help you make it through the winter! Our restaurant's enchilada's come with regular, suiza, crema, and mole sauce, and your choice of meat, or you can go with a vegetarian option. If you've never tried Mole, this is your time!
Burritos Are the New Comfort Food
Oh, how far the burrito has come! This tasty tortilla-wrapped meal has gone from a simple swaddle sold by food carts in the 1920s into a full-blown delicacy. With so many varieties and combinations of ingredients, there is a burrito for every palate and every season. Warm, squishy, with a kick of spice, burritos in the winter are nice!
Pork Carnitas
One of Chula's favorites, our pork carnitas let you indulge in a sizzling plate full of grilled onions and bell pepper, and to balance the heat, avocado, salsa, and a corn or flour tortilla. A touch of spice makes everything nice!
Call or stop by Chula's Restaurant and Cantina of Eugene if you're in the mood for a night of delicious and authentic Mexican comfort cuisine. We have a variety of dishes that will not only fill you up but keep you warm this winter.