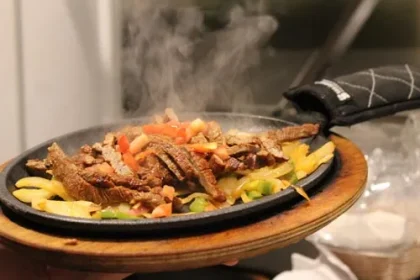 Fajitas are a beloved Tex-Mex dish that has become a staple in many households and restaurants. But where did this sizzling dish originate? Let's take a trip back in time and explore the history of the fajita.
The Origins of the Fajita
The fajita is believed to have originated in the ranch lands of West Texas and Northern Mexico. Cattle ranchers would often be given the less desirable parts of the beef, such as the skirt steak, as part of their payment. The ranchers would cook the meat over an open fire, creating a delicious and tender dish.
It wasn't until the 1930s that the term "fajita" was used to describe this dish. The word "fajita" means "little belt" or "little strip" in Spanish, which refers to the cut of meat used to make the dish.
The Rise of Fajitas
The popularity of fajitas grew in the 1960s and 1970s, thanks in part to the growing popularity of Tex-Mex cuisine. Fajitas were initially served in Texas border towns but eventually made their way to restaurants nationwide.
One of the reasons for the rise in popularity of fajitas was the sizzling presentation. Fajitas are traditionally served on a sizzling cast-iron skillet, which keeps the meat warm and adds to the dish's visual and aural appeal.
Fajitas Today
Today, fajitas are a staple of Tex-Mex cuisine and can be found in restaurants and households all over the world. The dish has evolved over time, with variations including chicken, shrimp, and even vegetarian options.
Fajitas are often served with a variety of toppings, such as guacamole, salsa, and sour cream. The dish is usually accompanied by tortillas, which are used to wrap the meat and toppings, creating a delicious and satisfying meal.
Fajitas have also become a popular choice for catering events. Many catering companies offer fajita bars, allowing guests to customize their own fajitas with a variety of toppings and meats.
From the cattle drives of West Texas to your plate, the history of the fajita is a fascinating one. This sizzling and delicious dish has become a beloved part of Tex-Mex cuisine and continues to be a popular choice for restaurants and catering events alike. So the next time you enjoy a sizzling plate of fajitas, take a moment to appreciate the rich history and tradition behind this delicious dish.