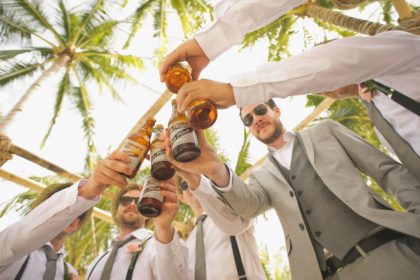 At Chula's Restaurant and Cantina, we have one of the best happy hours in Eugene. We have drink, food and lunch specials every Monday through Friday! In the spirit of Cinco de Mayo, we thought you would be curious to learn the origin of the term "happy hour."
Happy Hour Originated in the U.S. Navy
The happy hour we all know and love today indicates a specific time frame when a bar or restaurant offers drink and food specials at a discounted price. Typically it's during the workweek and after work hours between 4 pm and 8 pm. Originally, the term "happy hour" had nothing to do with the consumption of alcoholic beverages. It was actually a slang term used by the U.S. Navy.
In the early 1900's, around World War I, happy hour was time set aside during the week for those aboard a naval ship to relax and have some fun. Happy hour activities included watching movies, singing, dancing, and wrestling and boxing matches. These activities were meant to boost morale as Navy sailors would spend long periods of time out at sea with little contact to land and loved ones.
Prohibition Sparked the Correlation Between Happy Hour and Alcohol
It wasn't until Prohibition in the United States (1920-1933) that happy hour became related to alcohol. The manufacturing, transportation, and sale of "intoxicating liquors" were banned in the United States. The backlash of the 18th Amendment resulted in speakeasies, bootlegging and drinking illegal alcohol at home. The times when people gathered to consume these illicit beverages soon became commonly known as happy hour.
The name stuck even after Prohibition and was cemented into our vernacular by the 1960's as the service industry picked up the idea of happy hour specials. Other industries, such as the advertising industry, thrived on consuming alcohol as part of their normal office life. The "three martini lunch" was a typical tactic of ad men, lawyers and other businessmen as a way to relax and build relationships with clients and coworkers.
Happy hour is the time for us to unwind after a long work day and appreciate the here and now without worrying about the past or what's to come. Come join us for our happy hours at Chula's Cantina! Our drink specials run Monday through Friday from 3 pm to 6:30 pm.