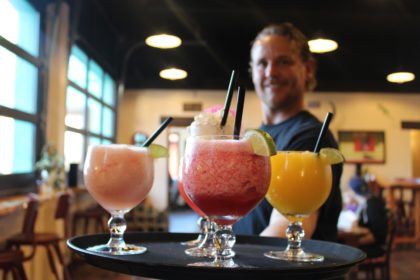 Like all classic drinks, the origins of the margarita are a bit hazy. It is claimed that a Mexican restaurateur south of Tijuana was the first to mix up the basic three ingredient staple of tequila, lime, and orange liqueur in 1938.
Nowadays, there are several variations of the margarita. In 2008, the margarita was the most commonly ordered drink in the U.S. The appeal of the margarita is in the many variations it can take. The margarita can be served with salt or without salt. It can be blended, served on the rocks, or with no ice at all. It also serves as the perfect base to add many other fruits to it.
At Chulas, we personally love adding fruits like mango, guava, and strawberries to our blended margaritas.
Even though the margarita does have many variations, it is based on the balance of three primary components: the alcohol, the sweetness, and the acidic or bitterness.
The classic ratio for a margarita is 2:1:1 Meaning two parts base spirit, to one part sweet, to one part sour or acidic.
The Anatomy of the Margarita
Tequila: the base spirit of the cocktail.

Orange liqueur: the sweetening agent

Lime: the sour or acidic component

Salt: the optional garnish
There are so many different variations and styles of the margarita it is hard to pin down the perfect one. We suggest coming into Chulas Cantina to try our different variations and to find out which one is perfect for you!