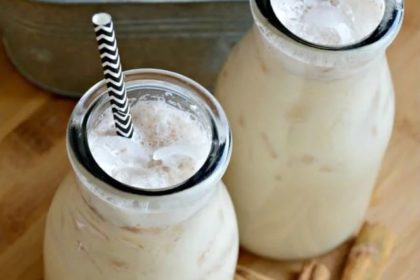 With fall's arrival, it means it's time to break out those warm, seasonal spices! And what better way than by making homemade horchata? This beloved drink dates back to 2,400 BC! It was originally enjoyed for its health benefits, being drank for fevers or given to fussy babies. Nowadays, it's enjoyed by many for it's cool refreshing cinnamon and vanilla flavor and its spices making you feel warm inside. It's also a favorite at Mexican restaurants like Chula's!
Here's the recipe:
1 cup of sugar, 2/3 if you want it less sweet
½ cup chopped almonds
1 cinnamon stick
1 Tbsp vanilla
12 ounces evaporated milk
1 ½ cups milk or a milk alternative
1-liter water
Ice
1. Start by soaking the rice, cinnamon, and almonds in a bowl of water all night, or at least 5 hours so the rice softens slightly
2. Strain the soaking mixture and add the ingredients to a blender with the evaporated milk
3. Blend the mixture until the rice is ground up fine and it is smooth
4. Strain into a pitcher and add sugar, vanilla, and milk. Mix until well combined
5. Add water and ice and enjoy! It's that easy to make delicious, homemade horchata.
Sprinkle a little ground cinnamon on top for a flavorful garnish and you've got yourself a perfect drink for these beautiful autumnal days. And if you don't feel like making it yourself, come on in to Chula's Mexican Restaurant and Cantina! We've got a family recipe that you'll love.
Recipe and photo courtesy of My Latina Table