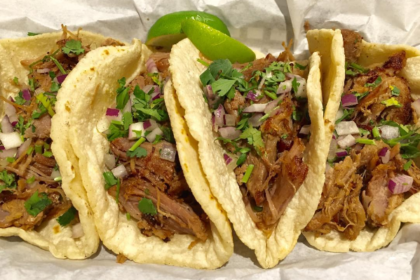 At Chula's Cantina, we not only serve some of the best Mexican food in Eugene, our street tacos take on a traditional Mexican style. You get your choice of meat, topped with cilantro, onions and cabbage, all piled onto warm, homemade corn tortillas. Simplicity never tasted so good!
There's no denying that tacos seem to be all the rage lately. Mostly because they are amazing. Although there is a huge range of different styles of tacos, in the U.S. we tend to eat Americanized tacos instead of traditional Mexican tacos. Mexican tacos have no flour or hard tortilla shells, no cheese, no packet-seasoned ground beef and no guacamole (sorry not sorry).
Authentic Mexican tacos are made with soft, corn tortillas, stewed or grilled meats like carne asada or carnitas and topped with cilantro and diced onions. Homemade salsas are served separately, leaving it up to a person's spiciness preference. Fresh lime is usually close by.
Traditional American Taco:
Hard shell or flour tortilla

Ground beef

Store-bought taco seasoning

Cheese

Lettuce

Tomatoes

Mild, store-bought hot sauce

Sour cream

Guacamole
Traditional Mexican Taco:
Soft corn tortilla

Carne asada or carnitas

Cilantro

Onion

Homemade spicy salsa

Fresh lime
However you want your taco is up to you. We're not saying authentic Mexican tacos are better than American ones (many would argue they are), we're just putting it out there so you can experiment on your own and see what you like. No better place to start than at the beginning, and authentic Mexican tacos are where tacos all began and Chula's Cantina is here to serve you!