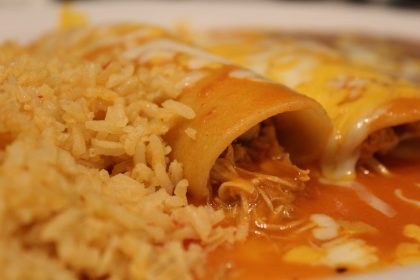 Bienvenidos!
Step into the vibrant world of Mexican cuisine and indulge in a culinary experience like no other at Chula's, conveniently located on the University of Oregon campus in Eugene. Known for our delectable Mexican food, refreshing margaritas, and warm hospitality, Chula's is the go-to destination for those craving an authentic taste of Mexico. In this blog, we will tantalize your taste buds as we explore the three most famous Mexican foods and reveal the ultimate must-try Mexican dish that will leave you craving for more.
The Three Most Famous Mexican Foods:
Mexican cuisine is renowned worldwide for its bold flavors and diverse culinary creations. When it comes to iconic Mexican dishes, three favorites rise above the rest, delighting taste buds and satisfying cravings across the globe.
Tacos: A Street Food Sensation Tacos are the epitome of Mexican street food culture, capturing the essence of Mexico's culinary heritage. These handheld delights feature soft tortillas filled with an array of mouthwatering ingredients. From savory grilled meats like carne asada and al pastor to succulent seafood options like shrimp or fish, tacos offer a symphony of flavors. Topped with fresh onions, cilantro, tangy salsas, and a squeeze of lime, every bite of a taco is a burst of savory and zesty goodness.
Guacamole: Creamy and Flavorful No Mexican meal is complete without a side of guacamole. This creamy avocado dip has become a beloved staple worldwide. Mashed avocados are blended with lime juice, onions, cilantro, and jalapeños to create a harmonious mix of flavors. The smooth texture, combined with the tanginess of lime and the subtle heat of jalapeños, makes guacamole a versatile condiment that pairs perfectly with tortilla chips, tacos, or as a topping for various Mexican dishes.
Enchiladas: A Classic Comfort Food Enchiladas have earned their place as one of Mexico's most cherished comfort foods. These rolled tortillas are filled with a delectable combination of meats, cheeses, beans, or vegetables and then covered in a rich, flavorful sauce. Whether it's the traditional red enchilada sauce made with tomatoes and chili peppers or the vibrant green sauce made with tomatillos and herbs, enchiladas offer a satisfying blend of textures and tastes. Topped with melted cheese and a garnish of sour cream, they are then baked to perfection, resulting in a hearty and comforting dish.
These three famous Mexican foods represent the heart and soul of Mexican cuisine, capturing the essence of its flavors, traditions, and cultural significance. Whether you're savoring the handheld delight of a taco, dipping into the creamy goodness of guacamole, or indulging in the comforting warmth of enchiladas, each bite takes you on a culinary journey through Mexico's rich culinary heritage. At Chula, we bring these authentic flavors to your plate, inviting you to experience the true taste of Mexico right here in Eugene, Oregon.
The Best Mexican Dish to Eat:
While every Mexican dish has its own charm, one dish stands out as a perennial favorite: the Enchilada Suiza. This mouthwatering creation combines the essence of traditional enchiladas with a creamy and tangy twist. Enchilada Suiza features rolled tortillas filled with tender chicken, smothered in a luscious green tomatillo sauce, and generously topped with melted cheese and a dollop of sour cream. The harmonious blend of flavors and textures in this dish makes it an irresistible choice for those seeking a delightful Mexican culinary experience.
At Chula's, we take immense pride in serving the finest Mexican cuisine that captures the essence of Mexico's culinary heritage. Our menu showcases a wide array of authentic dishes, from the iconic tacos to the beloved guacamole and the crowd-pleasing enchilada suiza. With each bite, you'll experience the vibrant flavors, aromatic spices, and the warmth of Mexican hospitality.
Whether you're a student at the University of Oregon, a local resident, or a visitor to Eugene, Chula's invites you to embark on a culinary journey that will transport you straight to the heart of Mexico. Indulge in our mouthwatering Mexican delicacies, sip on our famous massive margaritas, and enjoy the friendly and welcoming atmosphere that makes Chula's a beloved dining destination.
Make your next dining experience a fiesta of flavors by visiting Chula's Cantina, the home of authentic Mexican food on the University of Oregon campus. Join us and discover why Chula's Cantina has become synonymous with exceptional Mexican cuisine and an unforgettable dining experience. ¡Buen provecho!