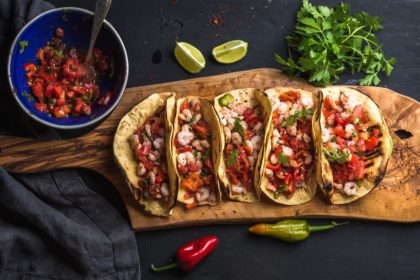 Summertime is the perfect time to experiment with colorful and flavorful foods. Mexican food and seafood have had a romantic relationship with each other for hundreds of years, mostly because the two pair so perfectly! At Chula's Mexican restaurant, you can see proof of this with our seafood menu items such as our shrimp entrees and fish tacos. Here are some tasty Mexican seafood recipes you can make from your comfort of your own home!
SoCal Shrimp Tacos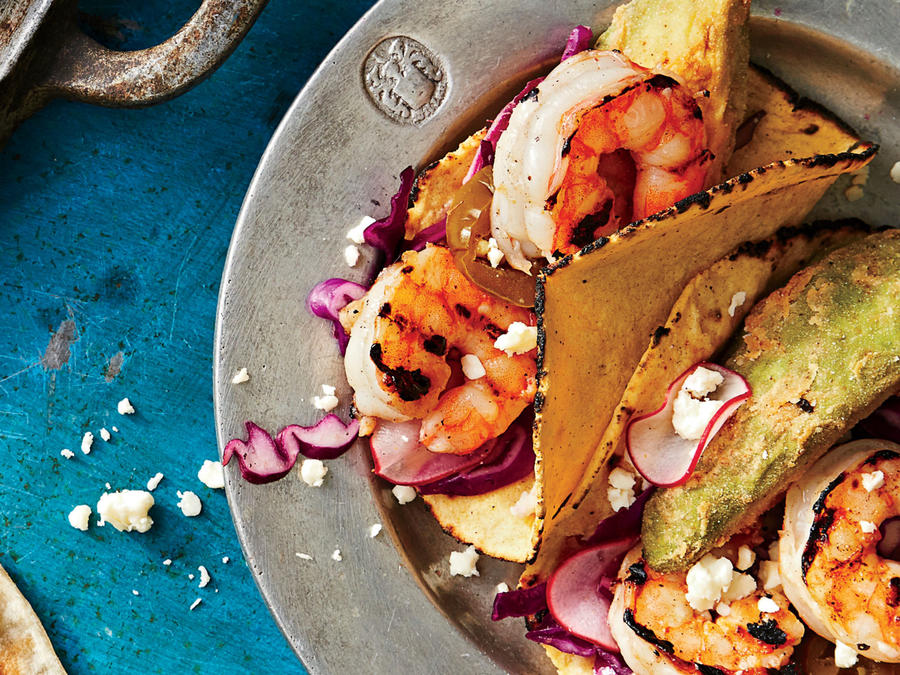 Recipe courtesy of MyRecipes.com
Ingredients
:
¼ cup lime juice

¼ cup olive oil

1 tablespoon honey

Kosher salt

½ teaspoon coriander

¼ teaspoon cumin

½ pound raw medium shrimp, peeled and deveined

1 ½ cups shredded red cabbage

½ cup thinly sliced radish

6 cups canola oil

1 large egg, beaten

1 cup masa flour

½ teaspoon black pepper

¼ teaspoon paprika

2 medium avocados

8 (6-in.) corn tortillas

¾ cup Cotija cheese, crumbled

Pickled jalapeño pepper slices
Instructions:
Preheat grill to high (450°F to 550°F). Whisk together lime juice, olive oil, honey, salt, coriander, and cumin.

Toss together shrimp and 1/4 cup of the lime juice mixture. Toss together cabbage, radish slices, and remaining lime juice mixture. Let both mixtures stand 10 minutes.

Place shrimp on oiled grates and grill just until shrimp turn pink, 2 to 3 minutes per side. Set aside, and cover with foil to keep warm.

Pour oil into a large pot. Heat to 350°F. Place egg in a dish. Stir together flour, salt, pepper, and paprika in a dish. Dip avocado wedges in egg; dredge in flour mixture. Fry avocado wedges in hot oil, turning occasionally, until golden brown and crisp, 3 to 4 minutes.

Place about 2 shrimp, 3 tablespoons of the cabbage mixture, and 2 fried avocado wedges in each warm tortilla. Sprinkle evenly with cheese, and top each with jalapeño slices. Serve immediately.
4 Cheese Hot Corn & Crab Dip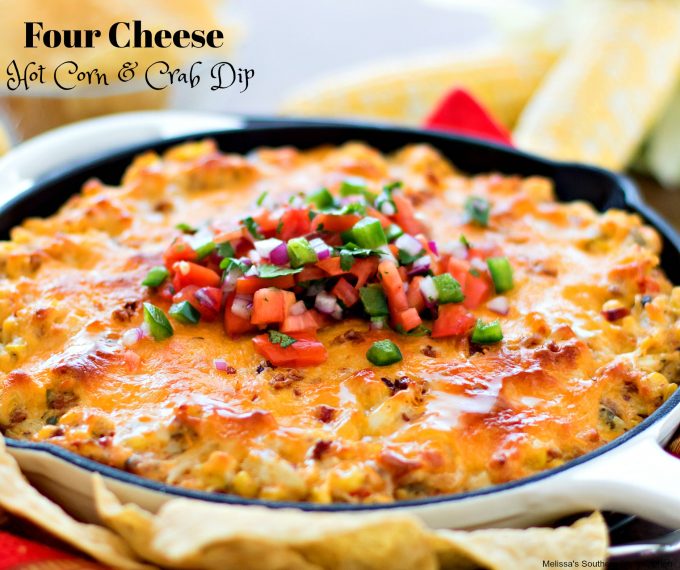 Recipe courtesy of Melissa's Southern Style Kitchen
Ingredients
:
3 slices bacon, cooked and crumbled (reserve drippings)

4 green onion, thinly sliced

1 small poblano or jalapeno pepper, diced

1 small red bell pepper, diced

1 tsp garlic salt

1 tsp lemon pepper

3 cups corn

4 ounces chive & onion cream cheese, softened

1 cup mayonnaise

½ cup sour cream or plain Greek yogurt

2 tbsp taco seasoning

1 tsp seafood seasoning

3 cups finely shredded Mexican style four cheese

8 ounces jumbo lump crab meat

½ cup fresh pico de gallo for garnishing
Instructions:
Preheat the oven to 350°F. Brush a 10-inch cast iron skillet or similar with olive, set aside.

On the stove top in a separate skillet cook the bacon until crisp then remove to paper towels to cool. Reserve 2 tbsp drippings in the skillet.

Add the sliced green onion, poblano pepper, and red bell pepper to the skillet. Season with garlic salt and lemon pepper. Sauté on medium-high for 3 minutes or until the peppers begin to soften.

Add the corn to the pan, cooking over medium-high for 3-5 minutes or until it begins to brown.

Remove from the stove and add the cream cheese, mayonnaise, sour cream, taco seasoning and seafood seasoning. Stir until the cream cheese melts.

Remove from the heat and fold in 2 cups of the finely shredded Mexican style four cheese, crab meat and crumbled bacon. Stir until combined.

Pour into the cast iron skillet or baking dish.

Sprinkle the remaining 1 cup cheese on top.

Bake for 30 minutes or until the top is golden and the edges are bubbly.

Garnish with

pico de gallo

just before serving with tortilla chips.